The Coachella Valley and the communities within it are considered some of the best and most exclusive in California. With beautiful weather, amazing amenities, and easy access to both Los Angeles and San Diego, it's no wonder that Indian Wells real estate and Sun City Palm Desert homes for sale have exploded in the last few years.
If you're considering making the move and enjoying the sunshine and desert life full time, or even just looking at Rancho Mirage condos for sale to spend winters in the heat, keep reading. These are some of the best small to medium-sized communities for that desert life.
Palm Springs
Palm Springs is truly an oasis in the desert of California and is known for its luxurious living, amazing hot springs, and stunning mid-century-modern architecture, like much of what you can find in the Desert Parks Estate Palm Springs real estate.
Just under 50,000 people call Palm Springs home, according to the 2020 census, and the vast
majority of them are actually retirees
- Desert Parks Estate Palm Springs homes are often considered the best homes to retire to. There are a few reasons for that, including the beautiful desert weather, access to some world-famous golf courses (that you can enjoy year-round), and the cost of living. While the median home price for most Desert Parks Estate Palm Springs homes are often over $700,000, this is much lower than the average home price in San Diego or Los Angeles.
Fun fact: Palm Springs real estate became popular as Hollywood was just becoming huge. Actors working in movie studios needed to stay within a two-hour trip of the studio while working on a production. Palm Springs was just within that two-hour window, and such, Desert Parks Estate Palm Springs vacation homes were needed.
Rancho Mirage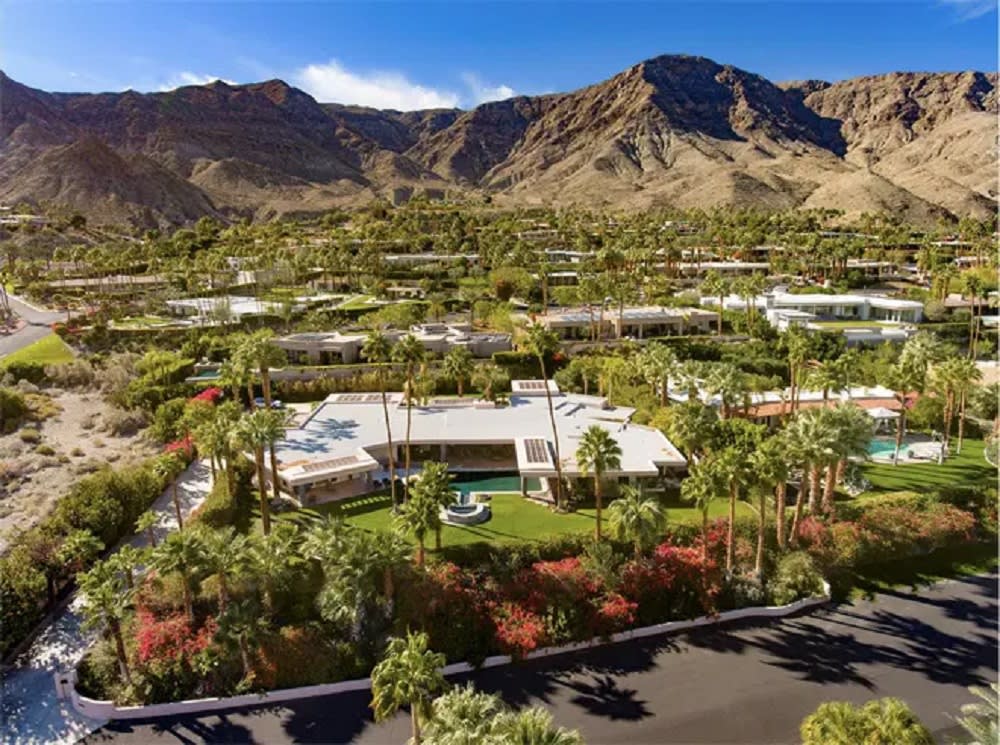 Image courtesy of Luxuo

Rancho Mirage is just a few minutes northwest of most Indian Wells real estate, and it's also a little bigger - approximately 17,000 people live here year-round, though, with the many Rancho Mirage condos for sale, winter can see upwards of 20,000 residents.
This community is really steeped in old Hollywood history. While Rancho Mirage condos for sale are desirable, the community is known for being a little more spread out than, say, Desert Parks Estate Palm Springs homes, and in the past, has attracted Hollywood stars like Sammy Davis Jr., Lucille Ball, Bob Hope, and Dean Martin.
One reason Rancho Mirage homes for sale are so popular among snowbirds is the golf. While most of our desert communities have golf options, Rancho Mirage is actually known as the
golf capital of the world
and has hosted dozens of tournaments over the years.
Of all our communities, Rancho Mirage condos for sale also have easy access to some of the best dining in the area.
The Edge Steakhouse
, located within the Ritz-Carlton, Rancho Mirage, is actually sitting on the edge of a cliff completely encased in glass. It's really an incredible experience.
Sun City Palm Desert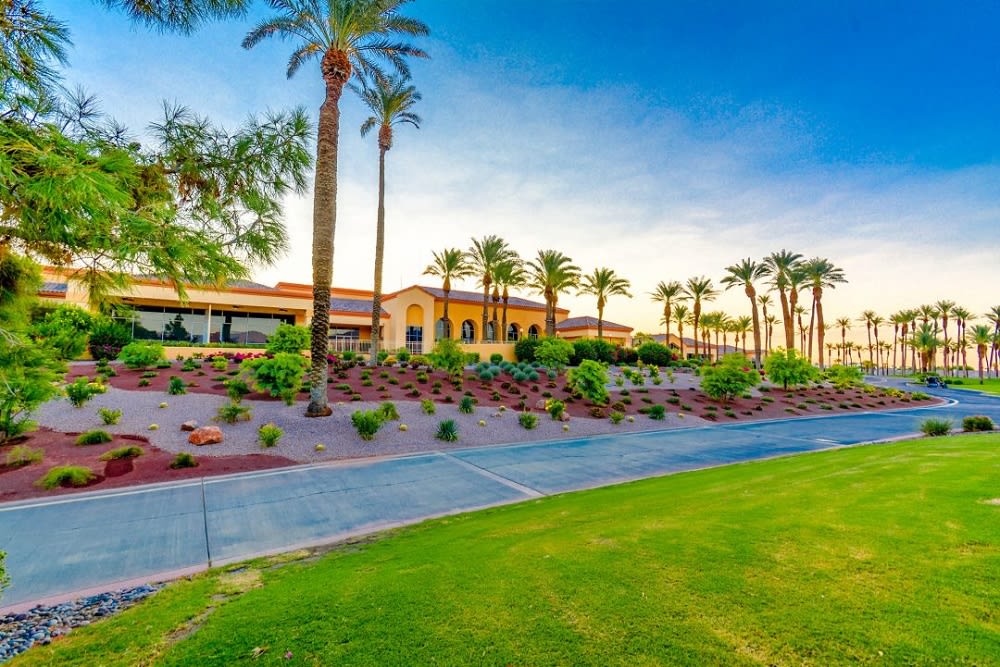 Image courtesy of Sun City Insider
Sun City Palm Desert
homes for sale are perfect for those looking to retire to the desert in luxury and without an overwhelming amount of personal responsibility. Isn't that the dream? This is an incredibly active 55+ gated community with over 5,000 total homes.
Residents enjoy a lot of benefits. The community itself is over 1,600 total acres, and that includes 25 lakes, several waterfalls, and two fenced dog parks for your pooches. If you love golf and you're looking at Sun City Palm Desert homes for sale, you're going to be very happy. The community has two full 18-hole golf courses, a driving range, and putting practice areas.
Sun City Palm Desert homes for sale also enjoy three clubhouses, five heated swimming pools, five hot tubs, miles of walking and jogging paths, a huge library, numerous cafes and restaurants on-site, a dance studio, and fitness classes to go along with the two fitness centers. Plus, there are a variety of clubs, groups, and activities. It was actually rated as one of the
top 8 places to retire in the United States
.
Indian Wells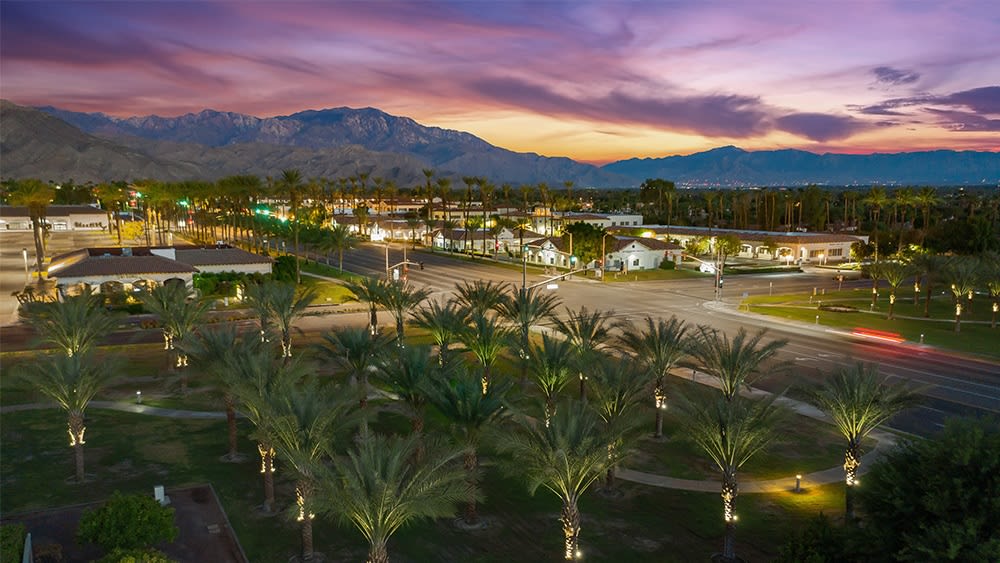 Image courtesy of City of Indian Wells
Much smaller than Palm Springs, Indian Wells real estate is home to just over 5,000 residents. This tiny community sits right along the Santa Rosa and the San Jacinto Mountains and is a haven for tennis lovers. The
Indian Wells Masters
is an annual tournament held in March each year and brings some of the biggest names in tennis.
In addition to tennis, Indian Wells real estate is particularly desirable due to the smaller community feel it has. Because so few people actually live in Indian Wells, those that do make it their home tend to be close. Indian Wells real estate is only about 30 minutes from downtown Palm Springs and just 15 minutes to downtown Rancho Mirage, another town on our list. It's close enough to be convenient but far enough away to give you space.
In general, Indian Wells real estate tends to be a little more expensive than some other communities on our list, especially as you move towards the foothills. With that, though, you tend to get more space and more modern amenities.
Ready to start looking for Palm Springs area real estate?
If you think Indian Wells real estate or Desert Parks Estate Palm Springs homes could be right for you, you should reach out to
Gregg Fletcher
with Compass Realty today. Gregg has spent 30 years working in acquisition and real estate and combines extensive marketing experience with amazing negotiation to help buyers just like you get into their dream Desert home.
It doesn't matter if you know Rancho Mirage condos for sale are exactly what you want or if you're still debating on Sun City Palm Desert homes for sale, Gregg can help you find that property that speaks to you and get you into your brand new home fast. Reach out today to get the process started and make that dream come true!
Contact Gregg today
.
*
Header photo courtesy of Culture Trip