In the heart of Greater Palm Springs lies the city of Indian Wells. While it is an especially popular place for retirees, Indian Wells draws people of all ages, including remote-working professionals no longer bound to a city office. With a population of just over 5,000, Indian Wells offers a tranquil respite from urban living and a friendly, welcoming community. It's located just 20 minutes from Palm Springs International Airport, so jet-setters can travel to their hearts' content and return home to their own piece of paradise.


The pleasant climate, exceptionally high quality of life and upscale lifestyle make this city a true desert oasis. People are exploring Indian Wells real estate for eight good reasons.
1. Climate
The city of Indian Wells enjoys year-round sunshine and warm weather. The temperature rarely drops below 45 degrees in the winter, and the city sees just five inches of annual rainfall. This consistently pleasant climate gives Indian Wells residents the feeling of being on vacation all year long.
2. Golfer's paradise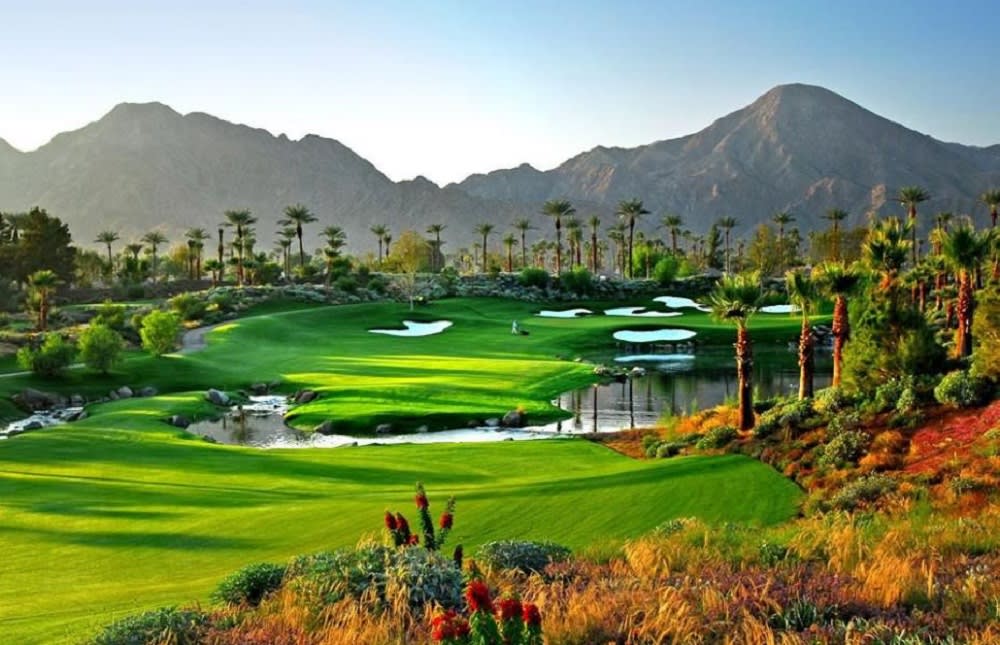 Image courtesy of Miramonte Indian Wells Resort & Spa
Many people who retire or relocate to Indian Wells are drawn by the city's famous golf facilities—it's home to world-renowned golf courses. Golf enthusiasts have their pick of courses settled among towering palm trees, mountain vistas, and lush grounds.
Indian Wells Golf Resort
boasts two 18-hole courses, a 53,000 square-foot clubhouse, and award-winning dining at the Vue Grille and Bar. The two courses at Indian Wells Golf Resort, Celebrity Course and Players Course, have each earned multiple accolades, including
Golf Magazine
's list of "30 Best Municipal Courses in America,"
Golfweek
's list of "Best Courses You Can Play," and Golf Advisor's "Top 50 Courses in the U.S."
Golf is practically a way of life in Indian Wells, and the city's prestigious country club communities each have their own golf facilities for residents to enjoy.
3. World-class tennis
A popular destination for tennis enthusiasts from all over the world, Indian Wells is known as "Tennis Paradise." The city is home to the
Indian Wells Tennis Garden
and its 16,000-seat Stadium 1, the world's second-largest tennis stadium. Each year, Indian Wells Tennis Garden hosts the BNP Paribas Open, the world's largest combined men's and women's professional tennis tournament.
4. Luxury homes
Indian Wells real estate comprises some of the most stunning and luxurious properties in Greater Palm Springs. Homebuyers relocating to the Coachella Valley have their pick of luxury homes and condos for sale in Indian Wells. From grand palatial estates to ultra-modern stunners, Indian Wells has something for everyone.



75330 Quail Cove
Image courtesy of Gregg Fletcher & Associates
This newly constructed home in the Vintage Country Club community is the height of modern sophistication. The 5,500 square foot, 3-bedroom, 5-bath residence has an airy, indoor/outdoor layout, top-of-the-line appliances, and custom furnishings. The backyard features a 65-foot pool and spa overlooking the 6th green of
The Vintage Club
's Mountain Course.

46310 Amethyst Drive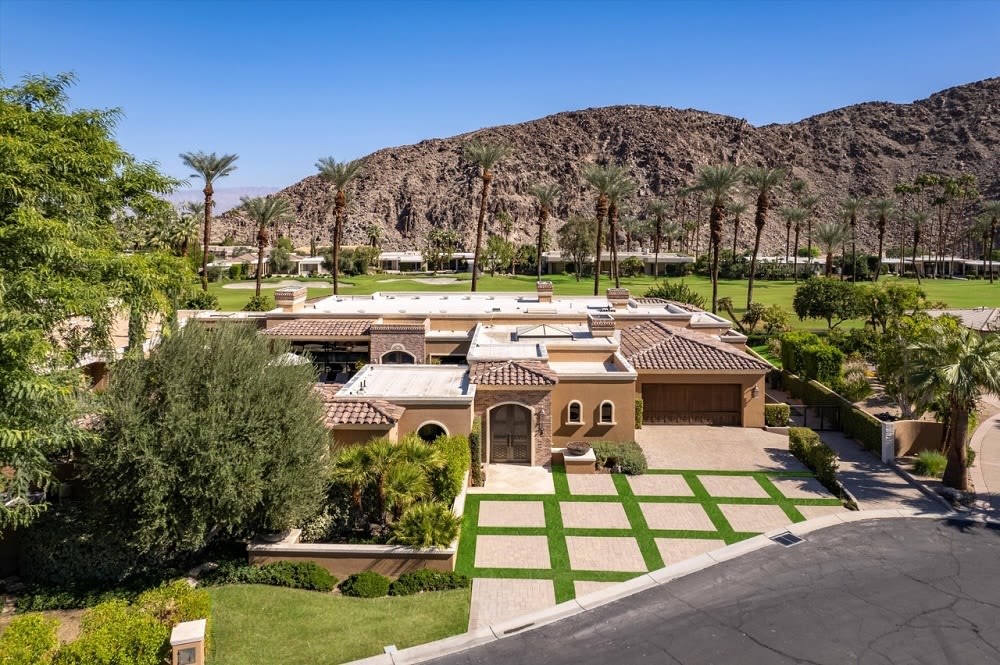 Image courtesy of Gregg Fletcher & Associates
This property includes two complete homes and a Casita–all with stunning mountain views. The original home is a 5,384 square foot, single-family residence with 3-bedrooms and 3.5 bathrooms. The second home, built in 2012 on the adjacent lot, includes 2-bedrooms and 2.5 bathrooms. The Casita is a 2-bedroom, 2-bathroom home. The square footage of the newer home and Casita totals 6,457. The property includes two pools, two spas, two outdoor fireplaces, two BBQ bars, two separate garages, and a golf cart garage.

47865 Vintage Drive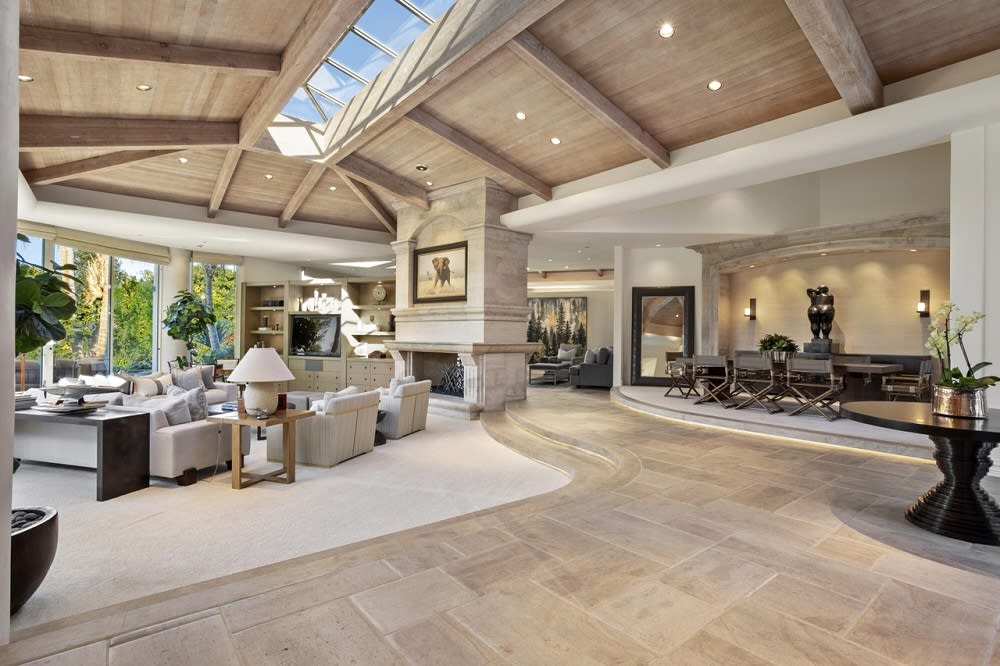 Image courtesy of Gregg Fletcher & Associates
This sun-soaked, one-of-a-kind home boasts 9,854 square feet, 3 bedrooms, 5 bathrooms, a great room with center-peak skylights, a sit-down bar, home office, gourmet kitchen, and an elevator. What makes this property truly special is the 1950s-style diner, home movie theater, and grotto-style wine cellar.
5. Country clubs
If you're in the market for a luxury home or condo in Indian Wells, you'll find that a number of prestigious country clubs define the city's neighborhoods. These gated communities offer some of the best amenities in the world, each one like a resort unto itself, offering residents a truly exclusive lifestyle.

Choose an Indian Wells luxury home from one of several prestigious country club communities:
6. Dining, shopping, and spas
Upscale shopping, dining, and spa experiences complete the Indian Wells lifestyle.
The Village
at Indian Wells is a shopping destination where you'll find specialty boutiques that offer clothing, beauty products, home decor, and more. In nearby Palm Desert, there are also a variety of boutique clothing shops and luxury designer brands.
Make rest and relaxation a part of your regular routine in one of Indian Wells' world-class spa facilities:
The

WELL Spa

at the Miramonte resort has nine indoor treatment rooms and three outdoor relaxation spaces inspired by the peaceful natural surroundings.

At

Spa Esmeralda

, you can enjoy a relaxing treatment in their spa garden with soothing waterfalls.

Agua Serena Spa

at the Hyatt Regency is another popular destination with a 30,000 square-foot wellness center, private gardens, and lagoons.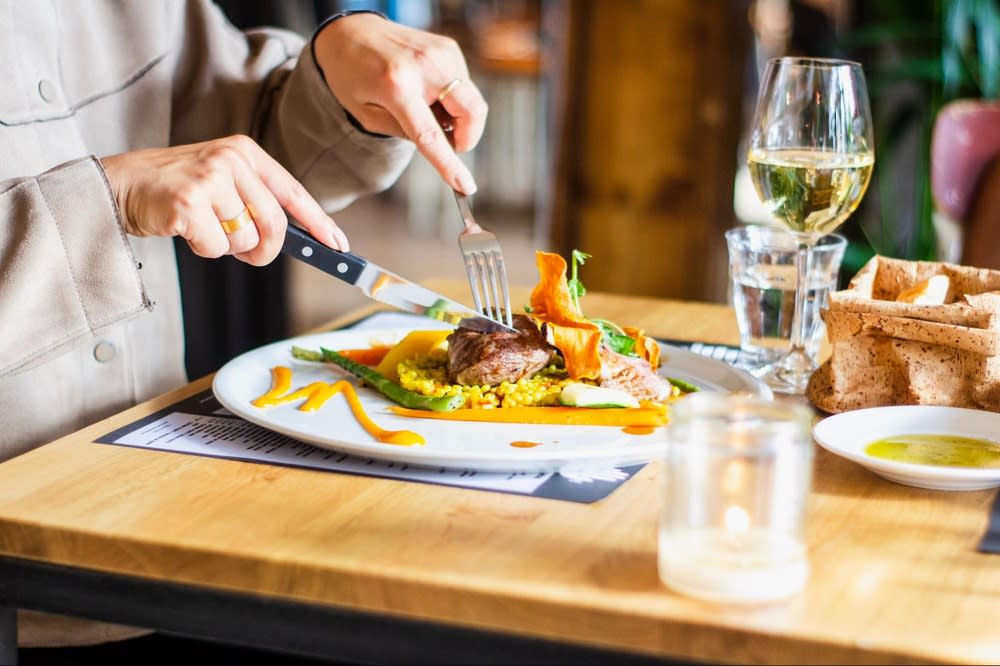 Indian Wells residents have access to excellent restaurants in their backyard. Whether you're looking for something new and exciting or want to take comfort in a familiar favorite, the options are plentiful. A few notable places include:
The Nest

restaurant and nightclub has been an Indian Wells landmark since 1966. In addition to their award-winning dinner menu, The Nest hosts live music and dancing every night.

Eureka! serves modern American cuisine using local ingredients. They pride themselves on offering a wide variety of handmade small-batch whiskies and unique craft beers.



IW Coffee

is a local favorite coffee shop that serves lattes and specialty coffees made with small-batch, locally roasted beans.
7. Culture and entertainment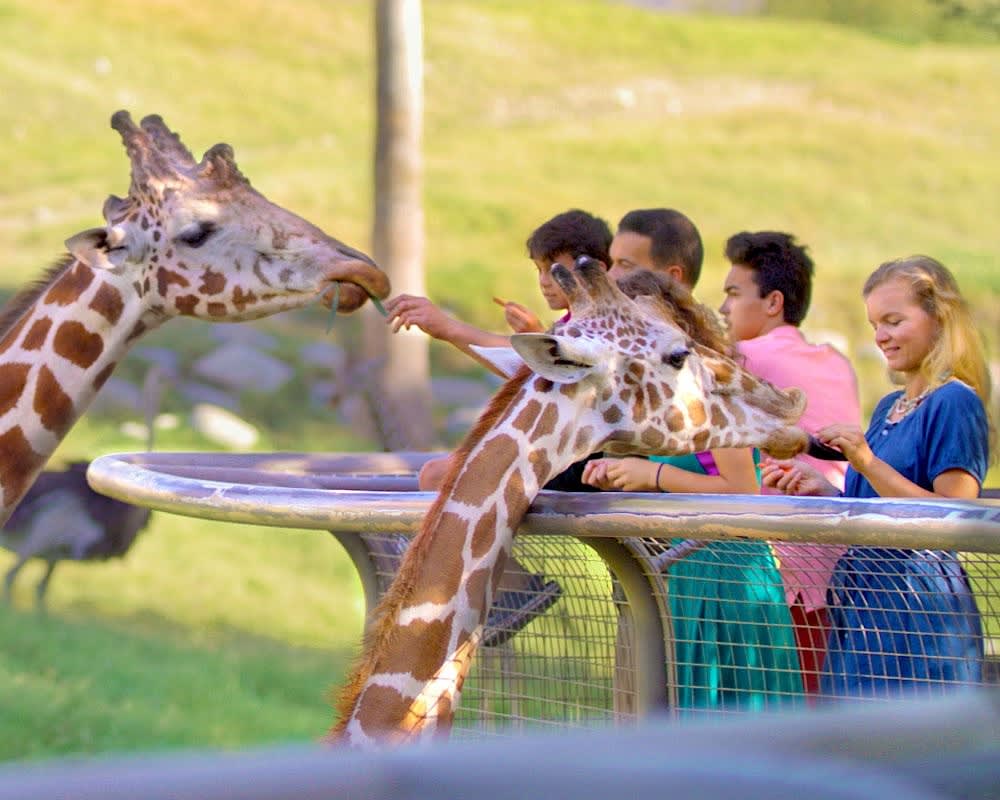 Tranquil doesn't mean boring in Indian Wells. There's always something to do here; the community festivals and artistic events are definitely worth experiencing. These destinations are highly recommended:
Living Desert Zoo and Gardens
has been named to Condé Nast Traveler's list of 10 Best Zoos in the U.S. This nonprofit zoo is especially popular among families, and it hosts dozens of events, educational programs, animal encounters, and more.
The
Palm Springs International Film Festival
is held every year in January and features more than 250 films from over 70 countries to an audience of nearly 120,000 people.
The
Indian Wells Art Festival
occurs every April. The festival features hundreds of artists and their work, and it includes live demonstrations of glass blowing, painting, weaving, large-scale stone sculpturing, mural painting, wood carving, and pottery throwing.
8. Natural surroundings
Nestled in the Santa Rosa Mountains among palm trees and lush gardens, Indian Wells is a truly beautiful place to call home. Alongside its awe-inspiring backdrop, the city affords its residents numerous opportunities to enjoy the great outdoors.


Outdoor adventurers can explore the landscape from dozens of hiking trails—from gentle nature walks to more challenging uphill climbs.


Fantasy Balloon Flights
offers a truly unique way to experience the natural surroundings. Get a breathtaking bird's-eye view of the mountains, desert landscape, and city on a hot-air balloon tour. The scenic balloon flight will remind you just how special Indian Wells is.
Find your home in Indian Wells
With world-renowned golf and tennis facilities, luxurious homes, and awe-inspiring natural surroundings, Indian Wells offers an exceptional quality of life. If you're thinking about relocating to this tranquil oasis, an Indian Wells real estate agent like Gregg Fletcher can help you find the home of your dreams. To learn more,
contact Gregg Fletcher & Associates today
.