Residents of Palm Springs enjoy many perks of the city, from beautiful architecture and nature views to warm weather and activities like golfing, hiking, and camping. With a setting as stunning as this one, a relaxing outdoor area is a prime piece of any Palm Springs luxury home. To better enjoy your own bit of
Palm Springs real estate
, or when thinking about investing in a luxury home for sale in Palm Springs, consider adding one of these five must-have outdoor amenities.
1. A pool or hot tub
If you don't have time or don't want to drive to the beach but want to spend the day in the water, a pool is a great investment for your home. Host parties or barbecues poolside, lounge with a float as the sun sets, or dive in at night with light fixtures of your choice. From traditional rectangle designs to a more organic shape, a pool of any type becomes a backyard gem.
Although pools come in various sizes, those who have limited yard space, are interested in the perks of a pool without maintenance, or who want an additional water leisure space should consider a hot tub. An outdoor location is ideal for this steamy amenity, as you don't have to worry about
floor or wall damage
. Whether you sit against the jets after a long day, use it as a warm alternative in the winter months, or entertain company in it, there are several uses for a hot tub that makes it a great addition to Palm Springs real estate.
2. A lounge area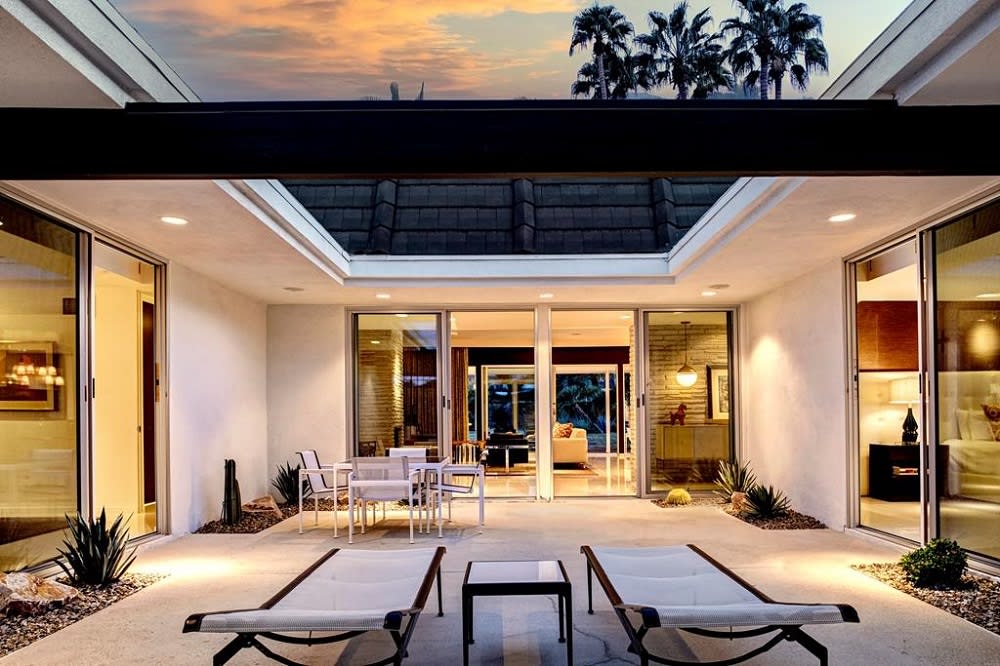 Another amenity to consider when searching for luxury homes for sale in Palm Springs is a lounge area. Building a lounge area is a great opportunity to make a space your own, as you can
customize the area
with specific color schemes, statues, wall art, and lighting fixtures. It doesn't take much to create a patio area; simply make sure there's ample space to sit and seating areas — whether they be a table and chairs or outdoor sofas — are positioned so everybody in a conversation can see and hear each other. A covered patio space, umbrellas, or trees for shade would complete an outdoor lounge area in Palm Springs.

A lounge area is also a great gathering space for family and friends, hosting small get-togethers, or enjoying a meal from the peace of your backyard. Lounge areas hold the potential for multiple signs and use — if you can imagine it, you can make it.
3. A fire pit or grill
A fire pit is another amenity your Palm Springs real estate needs. There are several designs to match a mix of home types and personal preferences, from smokeless fire pits with sleek metal designs to classic Chiminea fire pits with a fluting neck. For something sturdy and long-lasting,
steel fire pits
are the way to go. Or, for a more rustic look,
brick and stone
material allows a range of shapes and sizes and can be fueled in any way.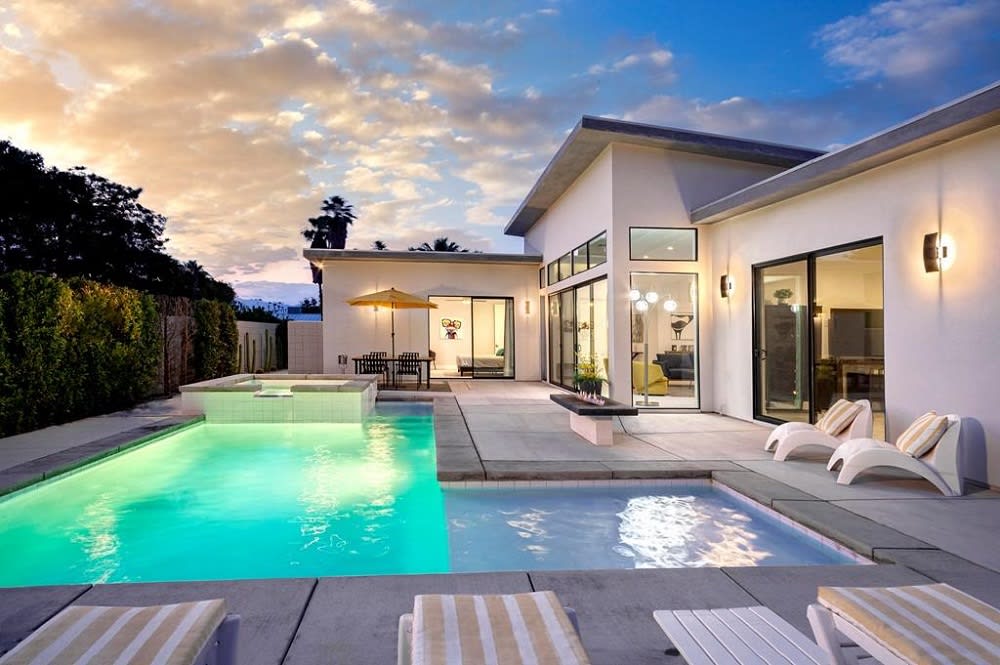 The luxury of a fire pit is endless; for cool evenings, those with fire pits don't have to stay indoors as they enjoy the fire's heat over conversation or roasting marshmallows. The swirling flame also livens up backyard festivities like parties or dinners. And those who have fire pits won't have to rely on public amenities like beachside bonfire pits to enjoy the warmth and light of a fire.
Although it is definitely possible to
cook on the right type of fire pit
, for a more usable fire amenity, a grill is a great option. People who like barbecuing and grilling chicken, steak, or vegetables should consider a
built-in grill
, as they often have higher power than stand-alone grills and are built of durable material for year-round use. The smell of cooking food is often a plus for those who come for dinners or parties.
4. A rooftop terrace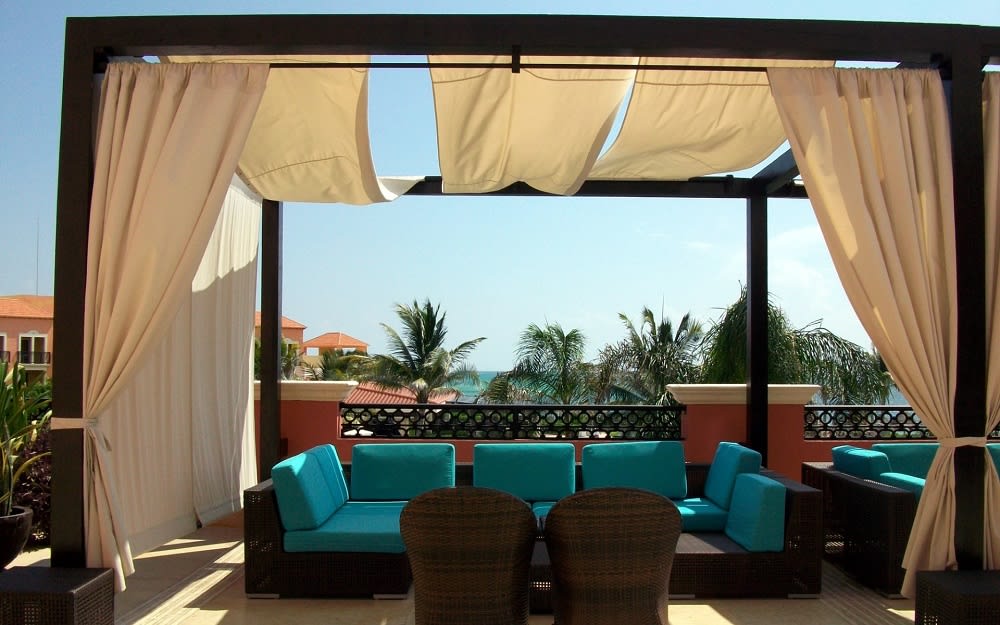 For a space above the noise of the street or away from next-door neighbors, rooftop terraces provide access to the sunset views of Palm Springs real estate. This bigger project pays off by providing an area to sit and enjoy the morning and evening views, a quiet place to read or work from home, or an area to host a dinner, party, or enjoy conversation with company. Rooftop terraces can be
built on almost any house
, given the considerations of the roof and surrounding residence regulations.

Rooftop terraces take several shapes and sizes, from differences in furniture selections, flooring options, décor, and shading. With soft lighting, a rooftop terrace is a great place to stargaze or to have a romantic date.
5. A multi-use court
Whether you're an athlete, want a space for children or guests to have fun in the backyard, or like to play sports recreationally, a multi-use court is a great way to stay active from the comfort of your own home. Depending on the court, those who invest in this amenity can enjoy sports like
pickleball, handball shuffleboard, and volleyball
, among others. Having a flat and open space available is also ideal for activities like yoga, dancing, or personal workout routines.
If you're pressed for space, a half-court is an alternative that maintains all the benefits of a full-court. For early morning or late-night play, lighting is a good investment to extend the hours of use. As a flat space, it's also a convenient area to set out tables
and host neighborhood and family gatherings
without ruining other backyard landscaping like lawns and raked landscaping rock.
Find these amenities in luxury homes for sale in Palm Springs
Whether you're looking for luxury homes for sale in Palm Springs or for ways to freshen up your Palm Springs home, these five outdoor amenities will bring your property to the next level. If you're interested in finding a perfect home for you, contact trusted local specialist
Gregg Fletcher
for help with your search.